Annette Underwood - Leaders recognized for establishing consistent DEI strategies in their organizations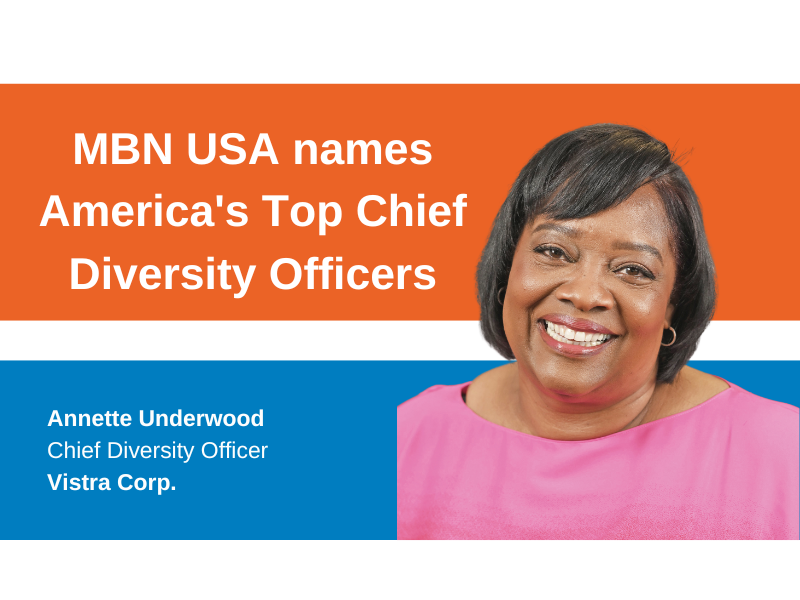 Q: Can you tell us a little about yourself and your role at your company?
A: I have been a [human resources] professional for 30-plus years, mainly in the HR operations and compliance space. I joined Vistra Corp.'s employee relations team in 2009, and I accepted the role as Vistra's first chief diversity officer in 2021. As chief diversity officer, I am responsible for workforce diversity — creating a culture where all employees are valued, ensuring leaders have the training and tools to contribute to an inclusive workplace and providing support to the communities we serve.
I currently serve on the advisory board for nonPareil Institute, a technology school for young adults on the spectrum, and LightHouse for New Hope, a nonprofit that offers free grief support. I also recently joined the South Dallas Employment Project as chair of the employer advisory board. There is nothing more important than showing others you care.
Q: Why is diversity, equity and inclusion important to your company?
A: Diversity, equity, inclusion — and belonging — is a business essential. It is a data point in a company's profile that reflects a forward-thinking commitment to increased productivity within the business and engagement in the community. Visible activity in the DE&I space increases employee engagement, attracts and retains top talent and has a positive impact on the internal culture and external brand.
Q: How has your company's DE&I strategy evolved over the past couple of years as the spotlight has been on the country's lingering racial inequality and social injustice issues?
A: Our program was just coming together in 2020. So, we had an opportunity to engage in all the new strategies emerging as a result of increased visibility of injustices. Vistra's then-CEO made it a visible priority, as has his successor. The implementation of listening sessions allowed a larger number of employees to gain insight and understanding. Vistra partnered with Business Roundtable and CEO Action for Diversity & Inclusion™ to implement hiring initiatives. COVID created barriers that required us to place additional emphasis on communication and "showing up" for our community partners. Our effective implementation of national and local diversity initiatives positioned Vistra as a DE&I leader in the Dallas-Fort Worth area.
Q: What area of DE&I is still a challenge despite increased visibility and acceptance?
A: The national response to the summer of 2020 was "We have to do something," which placed the focus on outcomes. You don't fix social issues by achieving the metric; those outcomes are milestones in an ongoing effort to solve the underlying systems and attitudes that created injustices. That effort takes time and may not provide a win to highlight until later down the road. Our emphasis on the work to change our processes and mindset around hiring and engagement is what will cause sustainable change but may not be what those who rate us externally view as important. Anyone can hit a number for one year.
Q: How does supplier diversity and minority business development fit into your company's DE&I strategy?
A: For Vistra, DE&I includes workforce diversity, supply-chain diversity and channel diversity. We engage our employees with our supply-chain diversity minority business development efforts through participation of the employee resource group members conducting certification site visits, attending organizational events and reaching out to MBEs for their promotional items, catering and other supply needs.
Growing our minority business is a priority. We seek to grow our current minority businesses though our growth and capacity-building program. We have had an award-winning supplier-diversity program for 30 years.
Q: What is the next step-change in DE&I, and why is it important to reach that level?
A: The next step-change is investing in the next level of business leaders that will be responsible for supporting DE&I. While Vistra leaders were engaged, committed and well-informed, many leaders had to quickly pivot to address social concerns without a deep understanding of the underlying issues. Leaders who are committed to more than board and investor approval will ensure diversity stays at the forefront in the coming years.
To learn more about diversity, equity and inclusion at Vistra, visit https://vistracorp.com/diversity-equity-and-inclusion/.
---
More News / Blog