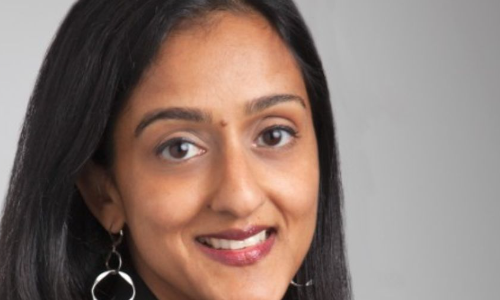 Civil rights attorney Vanita Gupta was recently sworn in as United States associate attorney general, making her the first Indian American to serve as the U.S. Justice Department's third-highest ranking official. In this role, she will be in charge of the department's civil rights litigation as well as its antitrust, civil and environment divisions.
In nominating Gupta, President Joe Biden described the Indian American as "one of the most respected civil rights lawyers in America."

A 2001 graduate of New York University's School of Law, Gupta started her legal career at the NAACP Legal Defense and Educational Fund Inc., where she rose to national prominence for racking up a major win on her first case. The success came after investigating a series of drug-related convictions and arrests of 40 African Americans and six white or Latino people in Tulia, Texas. In almost every case, the only evidence was the testimony of undercover narcotics agent Tom Coleman, who produced neither drugs, money or wiretaps.
As a result of the trumped-up charges, in 2003, Gupta won the release of 35 of her clients, who were pardoned by then-Texas Gov. Rick Perry. She also negotiated a $6 million settlement for them.
In 2007, as a staff attorney at the American Civil Liberties Union, or ACLU, the Yale graduate filed a lawsuit against U.S. Immigration and Customs Enforcement, or ICE, about detention conditions for asylum seekers. A landmark agreement was reached between the ACLU and ICE that included improved conditions in the T. Don Hutto Residential Center and a number of children were released from the Taylor, Texas-based center.
In her role as the ACLU's deputy legal director and director of its Center for Justice, Gupta was credited with pioneering the ACLU's National Campaign to End Mass Incarceration.
Going to the White House
In 2014, President Barack Obama appointed Gupta as the U.S. assistant attorney general for Civil Rights and head of the Department of Justice's Civil Rights Division.
Under her leadership, the Civil Rights Division worked to advance criminal justice reform and constitutional policing, including by investigating and working to reform police departments in Ferguson, Missouri; Cleveland, Ohio; Baltimore, Maryland, and Chicago, Illinois, among other cities. Gupta also oversaw a wide range of other enforcement efforts for the Division, including prosecuting hate crimes and human trafficking, promoting disability rights, protecting LGBT rights and combating discrimination in education, employment, housing, lending and voting.
In 2016, an investigation by Gupta's division concluded that the Baltimore Police Department engaged in a pattern or practice of conduct that violated the Constitution and federal statutory law, including unconstitutional stops, searches, arrests, excessive force and enforcement strategies that produced an unjustified disparate impact on African American residents.
Before being tapped by Biden, Gupta was CEO of The Leadership Conference on Civil and Human Rights, the country's' oldest civil rights coalition.
---
Similar General Spotlights