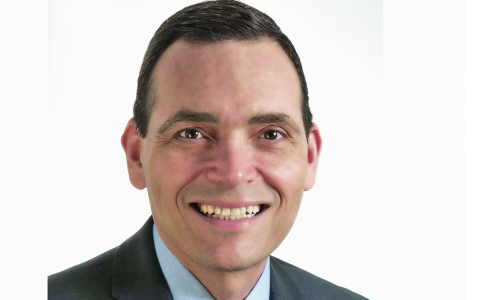 Jose Turkienicz delivers supply-chain diversity results for UPS
(Photo: Jose Turkienicz)
Byline: By Melissa Lowery
For UPS Inc.'s Jose Turkienicz, his passion for supplier diversity is built into his DNA.
"I'm Latino, raised in Brazil before we moved to the United States. My parents were small-business owners. I grew up in an entrepreneurial environment," said Turkienicz, UPS' chief procurement, real estate and global business services officer. "Supplier diversity is embedded in who I am."
That's why serving as the 2021-2022 chairman of National Minority Supplier Development Council Inc. suits him well.
Before joining UPS in 2017, Turkienicz held leadership and management positions for Aramark, Campbell Soup and Mars. An expert in supply chain, he has a proven record of successfully transforming organizations to top-tier performance by fostering a collaborative and inclusive culture of continuous improvement, while driving sustainability, innovation and improved productivity.
Turkienicz manages three business groups that help make UPS the top-ranked company in the industry: global procurement, real estate and global business services. He manages 15,000 team members around the world within these groups, $25 billion-plus in third-party spend and more than 4,000 properties globally. His responsibilities cover more than 220 countries and territories, as well as customer service and its information technology, financial and employee global shared services.
Managing such enormous resources seems daunting, but Turkienicz has a daily routine that centers his thoughts on what's most important: the customer.
"I start my day listening to calls coming into call centers to understand how to better serve the customer," he said. "I close the day the same way — listening to customer service and considering how we can improve the next day."
A laser focus on how to best serve UPS customers informs everything Turkienicz does, whether he is improving his team's productivity, adapting to a global health crisis or developing opportunities for diverse suppliers.
The value of supplier diversity
Measuring the real value of a supplier diversity program has proven elusive over the decades, with the default metric being the amount spent with diverse suppliers. He prefers to analyze multiple metrics when evaluating UPS' success in supplier diversity.
"There are a lot of ways to measure success. It's not easy to pinpoint," Turkienicz said. "What I believe is that there's a major contribution first from an economic development standpoint. Diverse suppliers make a huge contribution in terms of speed to market or nimbleness. MBEs [minority business enterprises] tend to be smaller and have agility that delivers value faster and more sustainably than the giants they compete against and that, in turn, aids our bottom line by making us more competitive.
"Partnering with diverse suppliers brings a level of inclusion and better mirrors the diversity of the company," he continued. "We operate in more than 200 countries and territories, [and] our team is 500,000-plus strong UPSers. A diverse supply chain reflects how we look, act and think."
Of course, the cost of goods and services is still a factor for UPS, Turkienicz said. But meeting diverse spend goals is part of the company's overall strategy to streamline costs while creating opportunities.
"It's important to note that we don't pay more for diverse suppliers," he said. "They compete financially on the goods or services they're selling the same as with any other supplier. What we provide is the opportunity to engage, develop and compete at equal levels. We doubled our spend in the last three years but we did not pay more for the products or services that help us be competitive, nimble and innovative."
Delivering what matters
In the past year — with millions of people ordering everyday items for home delivery — consumers have relied on UPS and its major competitors more than ever. Turkienicz is proud of how UPSers stepped up to the challenge.
"At UPS, we have a purpose statement: 'Moving our world forward by delivering what matters.' Never has that been truer than in the past year," he said. "We are an essential business, but we're still people. I am humbled by the resilience and adaptability 500,000 strong UPSers had to have to keep moving forward and delivering what matters, to live our purpose statement — to literally walk the talk with no other option."
###
NMSDC taps Jose Turkienicz as new chairman
In addition to his role at United PS Inc., Jose Turkienicz was recently elected chairman of the board of directors of National Minority Supplier Development Council Inc. Throughout his career, the chief procurement, real estate and global business services officer at UPS has worked with diverse suppliers, advocating for increased opportunities to grow and succeed.
"I'm humbled to have been elected," he said. "I'm passionate about creating opportunities for MBEs [minority business enterprises], which is the mission of NMSDC. My role will be to drive the organization toward meeting that mission."
One of Turkienicz's first tasks is helping the NMSDC board find a replacement for the organization's president and CEO Adrienne Trimble. She recently resigned to join Houston, Texas-based Sysco Corp. as vice president and chief diversity officer.
He said a search committee has been established consisting of himself, NMSDC Vice Chairman Guy Schweppe, Treasurer Clint Grimes and Secretary Gabe Castro. Also on the search committee are Stacey Key, chair of NMSDC affiliate presidents, and president and CEO of Georgia Minority Supplier Development Council, and Carlton L. Oneal, executive board member and chair of the National Minority Business Enterprise Input Committee.
"We are looking for a results-driven leader to help develop and articulate a persuasive agenda and — in collaboration with all stakeholders — enable the revenue growth of MBEs," Turkienicz said.
The NMSDC executive leadership team will remain in place and report directly to NMSDC officers while a search is conducted for the next president and CEO.
"The search has started, and we hope to have a final selection soon," Turkienicz said. "We thank Adrienne for her tireless efforts of advocacy and support for minority business inclusion and wish her much success in her future endeavors."
He and the NMSDC board and leadership are also currently engaged in a deep study to determine how the organization's 23 affiliates and 1,750 corporate members can more effectively deliver on the organization's mission.
"The question we need to focus on is: 'How are we at NMSDC supporting and enabling MBEs to grow their revenue?' I believe success in the next two years is if we enable MBEs to grow their revenue," Turkienicz said. "There's a lot of work in between to get to that from a strategic standpoint, a tactical standpoint."
One area he is scrutinizing — along with the board and NMSDC leadership — is the purpose of events like balls and galas. He sees the necessity of moving events online, streamlining and focusing on the essentials as an opportunity to reevaluate how the organization engages with constituents.
Turkienicz acknowledges that social gatherings are useful in building networks but believes NMSDC resources could be used more effectively to support MBEs.
"We've had to learn a lot in the past 12 months," he said. "We had to pivot to virtual events, and I see an opportunity in that. Can we actually use what we learned to focus more on compelling big companies to create opportunities for MBEs and less of the social aspect of balls and galas? I believe that's how we drive growth."
###
---
Similar News / Blog