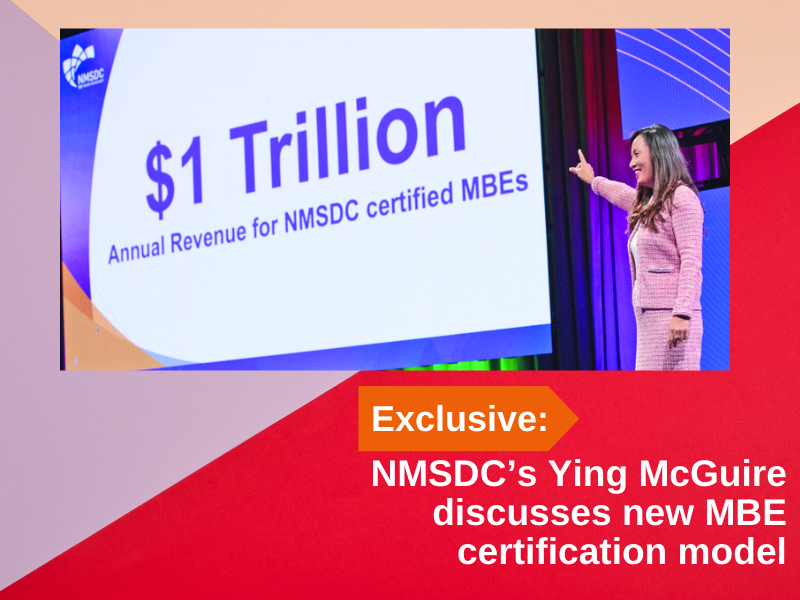 By M.V. Greene
Since Ying McGuire, CEO and president of National Minority Supplier Development Council Inc. (NMSDC), took over the helm of the 51-year-old organization in late July 2021, there have been a whirlwind of changes. The moves come as NMSDC marches toward an organizational goal for minority business enterprises (MBEs) under its certification umbrella to achieve collective annual revenue of $1 trillion over the next several years to help close an acknowledged racial wealth gap in the nation.
McGuire — speaking exclusively with MBN USA ahead of NMSDC's Annual Conference & Exchange Oct. 22-25 in Baltimore, Maryland — shared insight on implementation of the organization's new model for certifying MBEs. What she describes is like the precision assembly of a jigsaw puzzle.
Hardly a game, NMSDC's new hybrid certification model is a linchpin in the major transformation occurring at the leading U.S. supplier diversity advocacy organization, serving more than 15,000 nationally certified Asian, Black, Hispanic and Native American minority businesses enterprises and over 1,700 national corporate members.
Leveraging an illustrious history — NMSDC's golden jubilee anniversary was celebrated in 2022 — the organization's future will be marked by new ways of operating, strengthened by a foundation built on efficient business processes, enhanced service delivery, prioritized resources and emerging automation technologies.
Moving forward with hybrid certification
McGuire said the initial major changes, notably hybrid certification, aren't arriving a moment too soon.
"To be honest, I think that the right time for this change was a while ago," McGuire said. "But I know that transformation at this scale takes some time. We have been deliberate. For two years, we have been studying, listening, analyzing, mapping out and moving forward."
She said revamped procedures for certifying MBEs is a core element of the plan to modernize NMSDC as it marches toward the ambitious $1 trillion sales goal.
The NMSDC board of directors approved the move to hybrid certification in May 2023 with the intent of driving additional efficiencies across the organization's network of 23 regional councils. The board and leadership will leverage the new model to allow the affiliate councils to focus more on service delivery to grow and develop MBEs.
For NMSDC, a hybrid model means certification application processing will transition to the NMSDC national office rather than at each of the regional councils, thus redeploying resources to affiliates to increase value-add programming and services. McGuire noted that MBEs will benefit from a single point of entry into the NMSDC network for a faster and more spontaneous certification application experience.
"We're very excited about the efficiencies we're going to gain in freeing up resources in developing and delivering value-added services," she said. "It's about having the right people and right process in place and deploying the relevant technologies."
The new certification process adheres to NMSDC's approach that while its third-party validation of MBEs will remain the gold standard to ensure that enterprises are truly minority-owned, -controlled and operated, certification alone does not grow MBEs.
In its 2022 Minority Business Economic Impact Report, NMSDC said its certified MBEs increased collective annual revenue by 21% over 2021 to $316.2 billion, creating a total impact of $482.1 billion on the U.S. economy. The advocacy organization reasons in the study that if it can maintain an annual growth rate of 10%-20% in MBE revenues by certifying more MBEs and, equally important, by increasing corporate member spend with current NMSDC-certified MBEs, it will reach the $1 trillion goal by 2030.
"There's a huge amount of potential for MBEs to really grow and contribute a greater percentage to the U.S. economy," McGuire said. "To do that, we have to get other foundational work done more efficiently and effectively. We have to make our foundational work more technology-driven, starting with the certification process to remove some of the long-standing barriers."
She said the hybrid certification implementation project is on schedule following completion of a technology "discovery" phase of the initiative, which included engaging an external implementation partner and dedicating NMSDC chief transformation officer as an executive project lead for oversight of the project, a senior vice president of network success to engage directly with the regional councils, a vice president of technology officer, a project manager and a communications manager. NMSDC also consulted with corporate members, MBEs and regional council leaders.
Some MBEs, for instance, advised that the NMSDC certification model was antiquated and had not kept up with the times of how they are currently doing business and how markets are changing, McGuire said. In addition, adding to the changing landscape are increasing legal challenges to affirmative action principles and diversity, equity and inclusion initiatives, along with new certification organizations popping up as direct competitors to NMSDC.
"The whole dynamic has changed," she said of today's supplier diversity arena. She likened what is occurring in supplier diversity to the defunct video entertainment model that was Blockbuster LLC but has morphed into a Netflix Inc. streaming model.
"We've waited far too long, and we must act now and move those tactical concerns of certification to larger goals of accelerating MBE growth," McGuire added.
Opening more doors
She promises that NMSDC's transformation will serve to open additional doors for MBEs to do business with corporations and other organizations. Instead of historically engaging only chief procurement officers and their supply chains, supplier diversity also must bring other leaders to the mix — such as chief financial officers, chief marketing officers and chief information officers, she said.
"We need to involve line-of-business leaders. We need to increase opportunities for MBEs in industries not often considered as a part of a traditional supplier diversity strategy, like legal and financial services," McGuire said. "This modernization is really very important to make this [transformation] happen by helping more MBEs get certifications that can do business with our corporate members."
An NMSDC hybrid certification project team now is working on use cases to build the new system with the first phase of deployment beginning in December 2023, according to McGuire, to gauge that it will meet the needs of the full NMSDC network. Any adjustments will be made in 2024 with onboarding of all regions taking place throughout the rest of the 2024, she said.
NMSDC, MBDA collab a win-win
Certainly, NMSDC's transformation will command much of the buzz at the organization's Annual Conference and Exchange with the theme "Close the Equity Gap: Act Now. Accelerate Growth. Achieve Equity." This year's conference is being held in conjunction with the U.S. Department of Commerce's Minority Business Development Agency's (MBDA's) annual Minority Enterprise Development (MED) Week program.
Both conferences are being held concurrently in the same meeting space in Baltimore and will include MBDA-contributed federal government programming focused on creating greater opportunities for MBEs.
"The Minority Business Development Agency is excited to work with NMSDC to commemorate the 40th Annual National Minority Enterprise Development Week, a historic milestone for the minority business community," said Donald R. Cravins Jr., under secretary of commerce for minority business development, MBDA.
"MBDA and NMSDC share a mission to create an equitable business ecosystem in order to unlock our nation's economic potential. MBDA and NMSDC have the tools and the reach to make this moment count by expanding access to capital, contracts, networks and opportunities that every American entrepreneur deserves," he added.
U.S. Secretary of Commerce Gina Raimondo, the chief economist for the Invest in America Cabinet at the White House, along with the CEOs of Constellation Energy, Exelon and CareFirst BlueCross BlueShield are among many scheduled to address the conference.
McGuire said she is excited to stage a joint event with MBDA because the result will be new ideas for MBE growth and new connections for attendees.
"We're doing it together and showing it takes all of us to get this done," she said.
To learn more about NMSDC, visit nmsdc.org.
---
More News / Blog